Okay, you have been watching my workouts and you wanna give it a try first.
How to Get Beachbody Free Trial



Beachbody is currently offering a FREE 14-day trial of their popular On Demand service, which is great news for folks who are strapped for cash or just want a chance to try their programs out before committing to the monthly subscription.

You can sign up for their free trial here,
On Demand Features

The basics....
Full Access to All Beachbody Workouts




When you sign up for the Beachbody on Demand Free Trial, you will get instant access to all of the Beachbody workouts. This means you can try all of their favorites, and the classics too. This includes blockbuster Beachbody offerings like:
Shift Shop
P90x (All 3 Versions)
Insanity
Core de Force
Brazil Butt Lift
PiYo
CIZE
22 Minute Hard Corps
21 Day Fix
21 Day Fix Extreme
T25
TurboFire
Hip Hop Abs

These are just a few of the great workouts you will have access with your free trial, plus, once enrolled you also get access to other great offerings, that are only available to Beachbody members.





With their On Demand service, you also get exclusive access to their Team Beachbody membership. This means you will be able to track your workouts, develop individualized meal plans, and much more.

This helps feel part of the Beachbody family, while also ensuring that you stay on track with your workouts, which is a huge bonus.
Stream on Roku and More

With Beachbody On Demand, you won't be stuck watching your workouts on your iPhone app – it works on a number of different streaming devices and services including Roku, Chormecast, and the Amazon Firestick.
Final Thoughts

Can you really try Beachbody for Free? Yes. Yes, you can. That's great news for those of us who like to try things out before committing any of our hard earned cash.


To learn more about their free trial, CLICK HERE to visit the official Beachbody website.


How to Sign Up for the Free Trial Offer

You can also go directly to Beachbody and select the 3-Month Standard Beachbody On Demand Membership. This page also includes four other purchasing options (which we will discuss below) that come with a 30-day money back guarantee, but you will be charged immediately.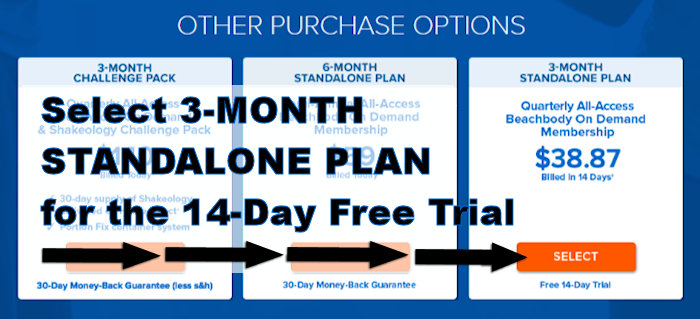 Beachbody On Demand Costs After the Trial Period Ends

After the 14-days, if you don't cancel, you are automatically enrolled into a quarterly membership of Beachbody On Demand.
To cancel the Beachbody On Demand free trial, you must contact Beachbody customer support one of 3 ways via online chat, via email with the online form, or via phone: (800) 470-7870.

Be sure to have the email address you used when signing up available when you cancel. Your customer account number or order number may also be required. The same procedure above applies to canceling any membership.
My hope is that you contact me and decide to get in one of my free accountability groups and give BOD a try for 3 months. Lets see what changes in 3 months! I bet I get ya hooked forever!